Tarot Card Meanings ~&~ Symbolism

brief descriptions and images of the classic tarot cards
Tarot Card Meanings & Symbolism. . .    Finally a quick guide for easy to understand tarot.  With this guide you can start doing your own readings in minutes.   You'll also find images and descriptions based on the enduring and classic Ryder-Waite Tarot Cards. 

Message from Spirit for June 17 thru June 25

Spirit says:  Changes and Revelations 
This week is a big week for soul level revelations that can bring many changes.  Spirit shows me that what your innate self is seeking most is peace.  Where you find peace you find fulfillment.  These revelations spark changes in your perceptions, your choices and your intentions.  As you begin to align to inner peace, the path of unfolding your life purpose becomes self evident. 
   ♥ ~ Presley Love ~ ♥
Tarot Card Meanings ...     As mentioned above, the descriptions I'm sharing with you are based on classic Ryder-Waite tarot.   As you begin to learn the basics, your own intuition will start to reveal special meaning meant just for you.   
To do a reading, begin with a question, meditate on the question until it is firmly cast in your mind.  Then draw the cards according to the spread you choose, the next step is to "read" the cards by referring to the list for their basic interpretations, letting your own intuition give you further details of the answer.  

Symbolism and the Tarot . . .
The symbolism of the designs and elements on the tarot cards opens the reader to tap into his or her own intuition.  The more one understands the basics of symbolism - the deeper the message can be interpreted.  Every aspect and color in the card can brings deeper understanding and significance. 

There is a sentient quality to the tarot cards, they seem to have a way of appearing in a reading as to address the question at hand beyond chance and beyond coincidence, into the realm of mystical.  
Tarot Card Meanings


0  ~  The Fool 
Upright:   new beginnings... new ventures... striking out on your own...  optimism
Reversed:    danger...  folly...  naivete'... unexpected problems... unprepared

1  ~  The Magician
Upright:   tapping into full potential...  creativity...  using knowledge and skill... mastery of a craft
Reversed:   manipulation...  indecision...  procrastination... delays... blocks... 

2  ~  The High Priestess
Upright:   spirituality... mystery of the unknown... premonitions... connection to higher power...
Reversed:  untamed emotions...  unseen enemies...  forgotten personal needs
3  ~  The Empress
Upright:   feminine ideal...  abundance...  prosperity... fertility...  sense of purpose... mother figure
Reversed:   dark night of the soul... lack... frustration...  infertility

4  ~  The Emperor
Upright:  a man of influence and power...  ambition... material success... father figure
Reversed:  abuse of power or position...  denial of responsibility

5  ~  The Hierophant
Upright:  spiritual guide...  wise counsel...  sacred ritual... ceremonies... honor of tradition
Reversed:  dogma...  rigid beliefs...  unwise counsel... opportunities lost

6  ~  The Lovers
Upright:  to be filled with love of all things... the powers of attraction... partnership
Reversed:  broken heart... misunderstandings in relationship... separation

7  ~  The Chariot
Upright:  success in the direction of ones desires... journey...  movement...  change
Reversed: 

8  ~  Strength
Upright:  the faith to do the impossible... unwaivering confidence... recovery from illness
Reversed:  stagnant...  fearful... insecure...  self doubt... onset of illness

9  ~  The Hermit
Upright:  the need for solitary meditation... to seek counsel from the Divine... contemplation
Reversed:  denial of the truth... impatience... haste... no desire to listen to wise counsel

Tarot card meanings by Presley Love  ~ additional pages are in development for each tarot card.

✫ ° •❥✫  ~•♥•~  You're invited;  Join my fb page Universe of Symbolism  ✫ ° •❥✫
© Presley Love

✫ ° •❥✫  Home  |  Horoscopes  |  Healing Crystals  |  Runes     Tattoos   |  Numerology  ✫ ° •❥✫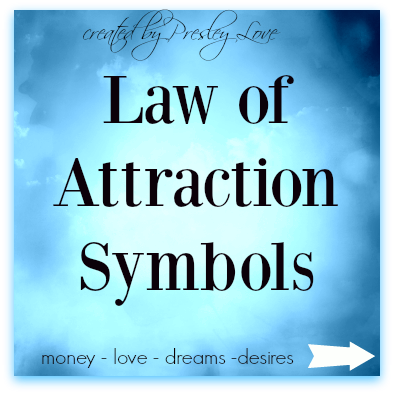 Law of Attraction Symbols
Let's stay connected!   If you'd like totem messages in your inbox, along with Messages from Spirit, join me here.  


Add Your Stories Here. . . 

Let's Do This!   I'd love to add your stories about Spirit Animals and Nature Encounters etc.   If you have a story, a dream etc to share just send it in to us and we'll add it to the appropriate article.   Send them to us here  ;) 

May 31, 17 08:41 PM

Feng Shui Good Fortune Symbol the Horse - the horse can bring about career success, business cures and stimulate a good reputation

May 31, 17 07:21 PM

Feng Shui Good Fortune Symbol Koi Fish - Symbols of Good Fortune May Be All Around You, learn how to draw prosperity to you with koi fish even in challenging times

May 31, 17 03:53 PM

Greek Goddess Artemis - She is known as the "huntress", her powers are influenced by the moon, the power of her magic is to hunt down the desires of...
  © copyright 2017 Universe of Symbolism ~ All Rights Reserved

No reproduction of any kind is permitted see my Terms Of Use/ Disclosures / Contact

Income Disclaimer:  I'm delighted to say that I earn income on this site through partnerships with advertisers via display and text link ads, and affiliates which is how I can offer my information for free to the world ;)  If you are interested in advertising on this site please contact me with your product/service ideas, I'm always open to something new ;) 
Other great sources of traditional symbolism:  National Geo,  Wikipedia
To support the welfare of animals : World Wildlife Fund


HOME  |:|  SPIRIT ANIMAL QUIZ  |:|  ALL ANIMALS:   LAND ~:~ WATER-AMPHIBIAN ~:~ BIRDS BUGS & INSECTS  |:| TOTEM ANIMAL MEDITATIONS  |:| NATURE: FLOWERS / TREES |:| COLORS |:|  NUMBERS   |:|  ANGELS   |:|    BEAUTIFUL SOUL