DOOR QUIZ
Which Door Do YOU Choose?
Message from the Universe

The Universe says:  You Are Given the Fuel to Manifest Your Desires
All that you desire is within your grasp.  Upon your creation you are given by Divine Providence all of the Fuel you need to manifest your desires, however it is ultimately up to you to to determine how you will use the fuel you have been given.  You can use it for creative manifestation or for folly, it is all up to you -  See it, feel it, touch it. . .  manifest your desires ~ ♥  Presley Love  ♥ ~
Take the Door Test Now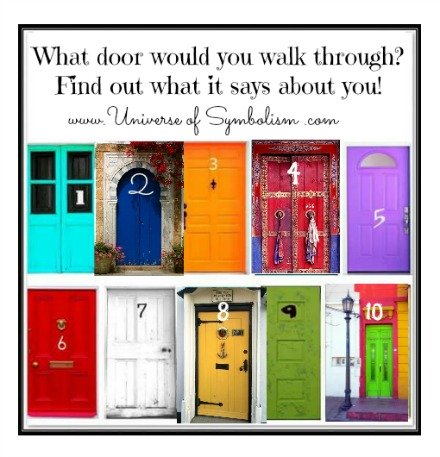 Find out what it says about YOU!

Take your time and examine the doors, closely.  Which one do you want to open?

Something awaits you behind each door, it could be a long lost love, it could be a message, it could be a portal --- what awaits you? 

              When you're ready. . .  
click here for the answer!

Enjoy & Share this Quiz!

Join my Tribe!!   Join 600,000 monthly like minded souls on the path of Spirit.  If you love Spirit Animals and guidance from a higher power  join my tribe!  

Nov 06, 17 01:43 AM

Bird Spirit Animals, Bird meanings list Hummingbird, Crow, Raven, Blackbird, Robin, Bluebird, Eagle, Falcon, Swan, Peacock most popular birds

Nov 06, 17 01:41 AM

Condor Symbolism The Condor is an amazing bird, a hunter of the sky Condor helps you tap into the powers of inner vision and vision questing the spiritual message of Condor is. . .

Nov 04, 17 08:37 PM

Land Spirit Animals Extensive List of Meanings & Symbolism for Totem Animals, Power Animals & Spirit Animals from around the world and as close as your backyard
No reproduction of any kind is permitted see my Terms Of Use/ Disclosures / Contact

Income Disclaimer:  I'm delighted to say that I earn income on this site through partnerships with advertisers via display and text link ads, and affiliates which is how I can offer my information for free to the world ;)  If you are interested in advertising on this site please contact me with your product/service ideas, I'm always open to something new ;) 
Other great sources of traditional symbolism:  National Geo,  Wikipedia
To support the welfare of animals : World Wildlife Fund


HOME  |:|  SPIRIT ANIMAL QUIZ  |:|  ALL ANIMALS:   LAND ~:~ WATER-AMPHIBIAN ~:~ BIRDS BUGS & INSECTS  |:| TOTEM ANIMAL MEDITATIONS  |:|  FLOWERS / TREES |:| COLORS |:|  NUMBERS   |:|  ANGELS   |:|    BEAUTIFUL SOUL

  copyright ©  2017 Universe of Symbolism 
All Rights Reserved