Spirit Animal Messenger Art
~ by yours truly Presley Love
Lions & Tigers & Bears oh my!
My Gorgeous Spirit Animal Messenger Art prints will melt your heart!  Dreamy Watercolor Designs with empowering message from your spirit animals.  New selections are being added frequently ;)

** All prints have 2 versions; with and without message,
all prints are unframed**
Sea Turtle
Here's how it looks framed in a beautiful setting!
---
Lion
Here's the majestic Lion print shown in a frame
---
Bear
Bear print shown on a side table!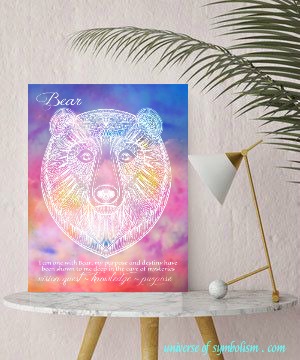 click here to purchase or expand
---
More sizes and product offering of these designs are in the works ♥

---
About Spirit Animal Messenger Art
Hello Gorgeous Souls...  before I ever started writing I was a professional artist  and designer.  My work doing art consisted of fine are, murals, decorative painting and fine finishes in homes and businesses in and around Portland, Oregon.  I owned a flourishing business with my work being featured in many designer showcases, schools, and the Oregonian.   Since the beginning of this website I've envisioned creating Spirit Animal Art that would represent the powerful and provocative energies of the the animals.  These prints are perfect for bringing the enchanting energies of the Spirit Animals into your realm.    
Spirit Animals are such divine creatures and I'm thrilled to finally be presenting them to the world. 
Each have been beckoning to me saying "I want to go dance in the world, to connect with those who are my kindred spirits, I want to walk beside them on their journeys, giving guidance and strength".
The backgrounds of my Spirit Animal Art pieces are intuitive watercolor blends of the aura essences and free flowing energies emitted by the animals.    Each of you will see something different, feel something different, and that is the nature of having a relationship with your Spirit and Totem Animals.
The embellishments on the animal are symbolic of inner powers, knowledge and wisdom known only to the animal itself. 
The embellishments let us meditate on the mystery and magnificence that the animal possesses.

To have these Spirit Animals on your walls, or on your clothes or other objects connects you to their infinite and expanding totem powers. You can touch the animal and commune with it's spirit, and in times of feeling the need for guidance and support, to lay your hand on the animals for a few moments brings about a powerful shift.
When I look at these totem animals I naturally drawn to the core essence of the animal and as I open to the animals I absorb their energies and feel their spirits alive inside of me.

I am privileged to have the spirit of the animal come to me in visual form, just as I am in etheric form when they reveal themselves to me in words.
And to the Spirit Animals I say thank you ~ I love you,  you have blessed me and I celebrate your blessings in so many ways...
I hope you enjoy. 
ps, please note all prints are un-framed, samples are shown in frames to help you visualize how it will look in your home ;) 
Signup for my newsletter and become a part of my tribe!  When you do,  I'll let you know when new designs are available ♥