Porcupine Symbolism & Meaning 

Special Announcement:  I'm providing a video with instructions on how to make your own mask ... Scroll down a bit for the video.
Porcupine Symbolism...   by Presley Love  
"Porcupine can take it's sweet time and enjoy the delights of the forest at his leisure because all of the other animals have learned to yield whenever and wherever he is about"!


Porcupine Teaches:
The energy and lessons of respect
Porcupine Meaning

Porcupine meanders casually and nonchalantly in full confidence.   He is equipped with all he needs to protect himself and he wears his protection like a badge of honor and regalia.  With his hundreds of quills he is the preeminent symbol of self protection and self defense.  
Porcupine spirit animal can appear for you when you are at a very important crossroads.  He can walk with you in new situations particularly when you feel apprehensive or vulnerable.  Porcupine will teach you the skills of carrying the energy of protecting yourself in authority, without being outwardly aggressive. 

IMPORTANT: How To Make Your Own Mask
As a service to my viewers, I'm sharing this excellent video with step by step instructions for how to make your own masks. 
Stay safe, stay strong. ~ Presley

What's Your Spirit Animal ?
click here ~> Take the Quiz to find out!  
 Porcupine Meaning ~ Symbols & Spirit Energies... 
Porcupine brings the gifts of:  leisure, storytelling
Porcupine shares the energies of: nonchalance, self protection
Porcupine teaches the magic of: earth magic, ancestor wisdom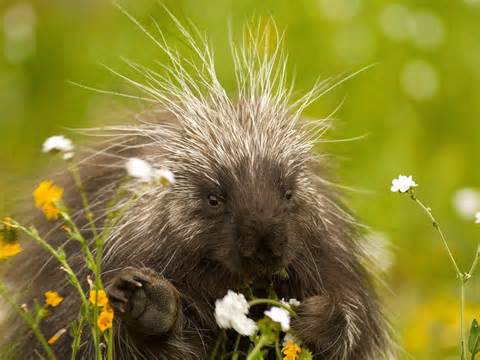 Porcupine ~ take your time and enjoy the sweet delights
Symbolic Powers of the Porcupine...

Porcupine power animal is keenly aware of his surroundings at all times, always prepared ~ this is the energy of a ninja warrior in zen awareness, always calm yet always alert to what is happening around him.  
Porcupine is symbolic of a great protector and warrior for the innocent... 
Porcupine Totem and the connection to self defense

Porcupine totem prefers to quietly keep to herself, but if she is threatened she will become fierce unleashing her quills on the attacker.  The quills penetrate deeply and are extremely painful and difficult to remove, many times resulting in the death of the opponent. 
Porcupine symbolism teaches that if you are being attacked or someone is trying to take what you have earned, you must fight back and defend yourself... use all of your skills, resources etc  these are your quills of protection to use to do what you must... take legal action if necessary to protect and defend yourself.
Porcupine Spirit Animal and Ancient Symbols of Story telling and Myth

Porcupine is an ancient symbol of storytelling and myth, representing gathering of the tribe and telling the stories of the hunters and gatherers, the elders and the children imparting their experiences and encounters.  This is how legends are formed and last, the spoken word being passed on from generation to generation.  
The Symbols of the Porcupine Quills

The quills of the Porcupine symbolize the generations of ancestors and their wisdom that have come before, each quill a representation of a family ancestor.  Porcupine carries great  meaning for connecting to ancient ancestors and their way of life, and the knowledge of living in harmony with the land and other animals.  The energy of respect is at the core of all that Porcupine symbolizes.
Earth Magic... and the Spiritual Meaning of the Porcupine Power Animal

The secret wisdom conveyed through my magic sticks oracle for Porcupine symbolism is... "Earth Magic"...
Porcupine spirit animal speaks the message:  "you will find great power and unlock ancient wisdom from the energies stored within the earth.  Spend time connecting to earth going to the mountains, stopping by a creek and dipping your feet in the waters, planting trees, collecting rocks and leaves and twigs and create a sacred earth magic altar in your home. Delight in the abundant variety of gifts found in the great outdoors... what is the message in the song the bird sings when you walk nearby?   Porcupine conveys the spiritual meaning that there is always magic around you, you must simply be open to seeing it.  Open to nature with new eyes, the eyes of a child, and then you will enjoy the magic of earths abundant and awe inspiring gifts Great Spirit has bestowed upon you".
Porcupine Spirit Guide... powerful symbol of respect

   Mystical, Spiritual Meaning of Porcupine Symbolism   keep exploring  previous / next  totems on wiki