Bird Symbolism & Bird Meanings

Spiritual Meanings and Magical Aspects of Birds
 What is Your Spirit Animal? 
Be sure to Take the Quiz!  just scroll down!

Bird Symbolism & Meanings ...    
The magnificent signs & symbols of birds! 

Birds represent having the wings of possibilities, freedom of flight, precision and timing, perspective, vision and individuality.  
Each bird is unique and breathtaking in it's beauty, and each bird presents us with legend and lore that can gently and mystically teach us about ourselves.  

List of Bird Meanings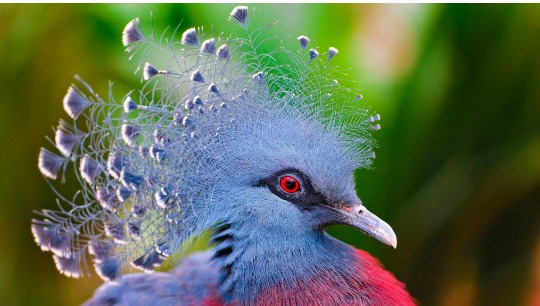 Victoria Crowned Pigeon

                          Join us in supporting the Audobon Society                                 
You HAVE to see this!!!!   Push Play ---  &  Wait for it, Wait for it . . .   ahhhhh haaa!

What's Your Spirit Animal ?
click here ~> Take the Quiz to find out!  

Bird Symbolism
~&~  Bird Meanings for Birds 
33 Bird Meanings featured on this page:  Albatross, Arctic Tern, Blackbird, Bluebird, Blue Jay Canary, Cardinal, Catbird, Chickadee, Chicken, Cockatiel, Cockatoo, Condor, Crane, Crow, Cuckoo, Dove, Duck, Eagle, Egret, Fairy Tern, Falcon, Finch, Flamingo, Finch, Flicker, Goldfinch, Goose, Grosbeak, Grouse, Hawk, Heron, Hummingbird....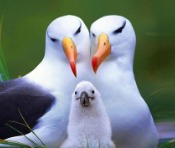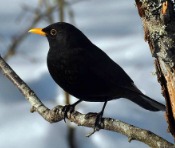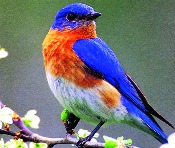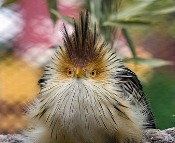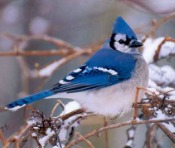 Albatross:  Epic voyages to travel over the oceans and seas... to tap into the power of water call upon Albatross bird symbolism  ~:~  Spiritual power of the Albatross;  astral travel

Arctic Tern:  Excellence, expectancy, mindfulness    ~:~ Spiritual aspects of the Arctic Tern teach of hidden fortune woven in our midst 
Blackbird: Communication, Clarification  ~:~  Spiritual meaning of the Blackbird;  Chanting, Psychic Abilities

Bluebird: Happiness, to delight in the moment and in simplicity  ~:~  Spiritual powers of the Bluebird;  calming anxiety, soothing tensions and fears

Blue Jay:  Discernment, to see things for what they are not for what we wish they could be  ~:~  Spiritual attributes of the Blue Jay; accessing ancient mysteries and legends

Canary:  Benevolence, Light, Bliss  ~:~  Spiritual message of the Canary;  fortune teller

Cardinal: Truth, Beauty, Power and life transformation  ~:~ Spiritual meaning of Cardinal;  sacred silence, sacred rituals

Catbird:  Brilliance, Contemplation, the power of changing perspectives through observation ~:~   Spiritual attributes of Catbird;  Other dimensions and realities

Chickadee:  Cheerfulness, playful spirit, taking time to play with the heart of a child ~:~   Spiritual meaning for Chickadee;  the time is ideal for starting new projects

Chicken:  Zeal, find your inner power and conquer fears with Chicken bird symbolism, Spiritual lesson of Chicken; Choose your path carefully, be ever watchful

Cockatiel: Friend, whispers of comfort ~:~   Spiritual blessing of the Cockatiel;  opening of the heart chakra space

Cockatoo:  Intention, presence, prestige ~:~ Spiritual providence of the Cockatoo; awareness of unseen energies

Condor:  Vision,  choosing the best vantage point to see the whole picture ~:~  Spiritual meaning of the Condor; Manifestation ~ what must you bring to the fold?

Crane:  Presence, Integrity, Honor  ~:~  Spiritual aspect of the Crane;  Be true to your word

Crow:  Third Eye, Intuition, Magic :~  Spiritual meaning of the Crow;  Inner dimensions, Sacred objects and ceremony

Cuckoo:  Ventriloquism, harbinger of messages, power of voice ~:~  Spiritual powers of the Cuckoo bird; Ability to remain hidden in plain view

Dove: Peace, gentle nature, eternal and lasting love ~:~  Spiritual meaning of the Dove;  Believe in infinite possibilities

Duck:  Decisiveness,  to make a move and to leave the past in the past  ~:~  Spiritual traits of the Duck;  Lucid Dreaming 

Eagle:  Pride, Mastery, Freedom  ~:~  Spiritual aspect of the Eagle;  To form new ideas, to design a destiny

Egret:  Timeless Beauty, Poise, Elegance  Spiritual virtue of the Egret; awakening of your true passion

Fairy Tern:  Irresistible Attraction, Adoration, Enjoyment  ~:~ Spiritual traits of the Fairy Tern;  invitation to magical discoveries

Falcon:  Messenger, taking prompt action, accuracy ~:~ Spiritual nature of the Falcon; vision quest

Finch:   Charm, Charisma, many facets of self   ~:~  Spiritual designation of the Finch;  The power of the sacred spiral...

Flamingo: Contemplation, Tranquility   ~:~  Spiritual blessing of the Flaming to bring healing for the heart

Flicker:  Authenticity,  Introspection, Gnosis  ~:~  Spiritual nature of the Flicker;  spiritual healing of inner emotional wounds

Goldfinch:  Abundance, Positivity, Inspired Energy   ~:~  Spiritual affinity of Goldfinch; to be blessed with good fortune

Goose:  Prosperity, Golden Treasures, Gestation  ~:~  Spiritual meaning of Goose;  the exploration and discovery of the personal golden egg

Grosbeak:  Primal Satisfaction, Boldness  ~:~  Spiritual  the call of the quest to awaken from slumber
Grouse:   Invisibility, Personal Protection ~:~  Spiritual dynamic of Grouse; power of stillness

Hawk:  Opportunity Awaits  ~:~  Spiritual energies of Hawk;  synchronicities arise from preparation, uncover a hidden agenda
Heron:   Spiritual Endeavors ~:~  Spiritual nature of the Heron; connection to ancient healing energies, the sacredness of life

Hummingbird:  Movement, Skillful Maneuvers  ~:~  Spiritual powers of Hummingbird; auric sensitivity, chakra energies

Magpie  Pure Potentiality, Balance, Opportunity
Mockingbird  Power of the spoken word
Parakeet   Guardian angels are in your midst
Pheasant
Quail    family, purpose and progress ~:~ being on the move
✫ ° •❥✫  Healing & Magic of Crystals & Gemstones | Spiritual Meaning of Numbers  
Meaning & Powers of Angels  |  Angel Numbers   ✫ ° •❥✫

Bird Symbolism ~ by Presley Love